Disney has provided me with an expense paid trip to Los Angeles for the #VeryBadDayEvent and #DisneyInHomeEvent in exchange for my review of the events of the trip. No other compensation is given. The opinions and experiences in my posts are 100% mine. You can read my full disclosure policy here.
Did you all watch the Star Wars Rebels: Spark of Rebellion on the Disney Channel on October 3? The series begins regular episodes on Disney XD TONIGHT  so get ready! We can't wait! I recently had the chance to screen the movie and interview some of the cast.  Be sure to check out my interview with voice cast member Freddie Prinze Jr. and Producer Dave Filoni.  Today I'm sharing my interview with the ladies of the show, Vanessa Marshall and Tiya Sircar. First, if you're not entirely sure what this new Star Wars is all about, let me fill you in.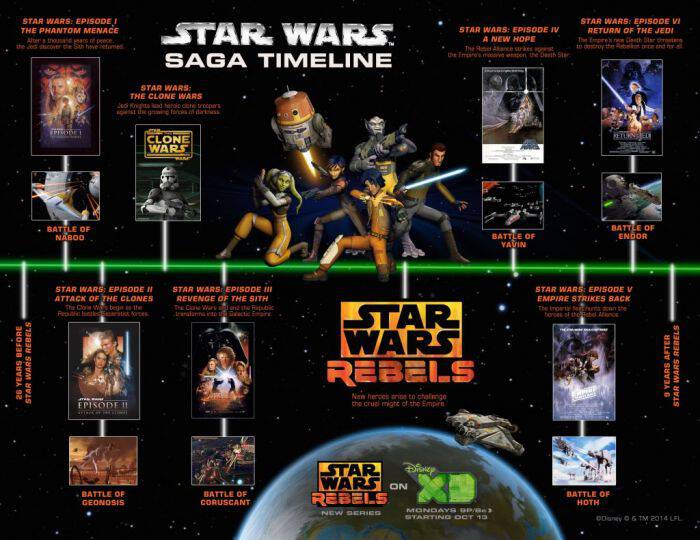 Star Wars Rebels is the latest piece of the Star Wars saga.  Half-hour long shows begin airing with the series premiere on Disney XD on October 13.  If you check out the image above you can see when Star Wars Rebels takes place, between the prequels trilogy and the classics trilogy, right between Episodes III and IV.
Star Wars Rebels continues the epic tradition of the legendary Star Wars saga with all-new exciting, action-packed adventures. Set between the events of Star Wars Episodes III and IV, the story unfolds during a dark time when the evil Galactic Empire is tightening its grip of power on the galaxy. Imperial forces have occupied a remote planet and are ruining the lives of its people. The motley but clever crew of the starship Ghost — cowboy Jedi Kanan, ace pilot Hera, street-smart teenager Ezra, the "muscle" Zeb, warrior firebrand Sabine, and cantankerous old astromech droid Chopper — is among a select few who are brave enough to stand against the Empire. Together, they will face threatening new villains, encounter colorful adversaries, embark on thrilling adventures and become heroes with the power to ignite a rebellion.
This interview with Vanessa Marshall (left, voice of Hera) and Tiya Sircar (right, voice of Sabine) was so fun! These ladies are high-energy and big Star Wars fans, especially Vanessa.  I always get a thrill out of hearing a Star Wars fanatic talk about it and I think it's so neat that after being a fan for so long, some of these actors are now part of the legacy. Here are some of the highlights of our interview.

Like Freddie Prinze Jr., (voice of Kanan), Vanessa and Tiya didn't know they were auditioning for a Star Wars show, though Vanessa had an inkling!
Q: What was it like auditioning for the role that you had? Was it really nerve-racking?
Tiya: Not, not as much as you might think, because we didn't know what we were auditioning for. So, that helped.  I was under the impression I was auditioning for a new animated series on Disney called Wolf.  So it wasn't until I actually got the phone call that I had gotten the job, which was great.  And they said,  and by the way, it's Star Wars.  And I was like, well, you know, it's like doubly exciting. It's way more exciting than I even realized. 

Vanessa:  Well, I didn't know what it was, but everything's a Star Wars metaphor for me.  I'm a huge Star Wars fan.  So, I felt that there were elements of Star Wars within the piece of copy that I read. They said that my character was a strong leader against the tyranny.  So, I actually sort of transposed what I know about Star Wars onto the little copy, and I got a callback.  And I thought, oh, cool, I'm gonna be a wolf.  

And when I, when I got to the callbacks I saw a drawing of the character on the wall, and I know what race that is.  You know, I know exactly what's going on here. And it sort of dawned on me in the moment, and I had to pull it together. Because I'm such a huge fan. If I really thought about it, I'd probably have a heart attack. But I'm also a professional, so I was able to do my job and I showed up and I did a good job clearly and then I got the call.

Then, then I hyperventilated.  And my agent was literally afraid for my life. She was like, honey, do I need to call a paramedic? And I mean she probably should have, because I couldn't stop going, oh, my God, oh, my — you know, I was crying.  

Q: How do you feel about playing these strong female characters?
Vanessa:  Hera is the leader and while she is fierce, she's a great fighter and a great pilot, she's also very nurturing, and she sort of plays a maternal role within the crew.  And I think she sets a really great example, I think she does a lot of mentoring to Sabine. I do think it's really wonderful that Star Wars Rebels embodies two female characters that we all can aspire to act like them whether we're adults or children or even little boys or little girls.

Tiya: In my own personal opinion, there are so many female personalities that for better or worse, may be famous not for a specific skill or talent but just famous for the sake of being famous.  And maybe not for the right reasons if you know what I mean. So, it's such an honor you know. I don't have kids, but it makes me cringe to think like all little girls, this is what they have to look up to and to aspire to be, and it's worrisome for me.  So, to me, it's such an honor to get to play this female character who, you know, Sabine's a teenager and yet she is so intelligent and so not even concerned about the superficial stuff whatsoever. She's never taken a selfie in her life, you know.  And if she knew what that was, she wouldn't be interested.  So I think it's really amazing to get to play these two smart women.  They are right there alongside the guys, beating up the bad guys. I hope that young girls and young boys can aspire to be like these characters, because they're fighting for the greater good. They're doing the right thing and they're just like really smart and savvy about it while they're doing it.  I hope that might replace some other stereotypes out there.

Vanessa: I think also that, that what we're all driven by is hope.  Once again in transcending gender that I hope that kids take that hope, that it's important to have faith, to have morals, to have ethics, and adults could probably learn from that as well.  And some of those, those bigger human values that are not often embodied in, say, the people who are famous for things less than desirable.  But it's really cool.  There are some very wonderful, delicious ideas, that are also inspiring over all, you know.  But I agree, definitely.  These are really cool women for younger girls to emulate.
Meet Hera
Q:  Talk a little bit about how you actually do this script all together in one room.
Vanessa:  Luckily, I know enough about the different places and things in the Star Wars universe, but it's so much easier to interact with people, you know.  We all love Star Wars, but that collective energy in the room is something that I think viewers will feel.  I think it's a real advantage.  And like I said the writing of the scripts is so great.  It's really not that hard to do. 

Tiya: It doesn't feel like work certainly for me. 

Vanessa:    No. I mean obviously, it's a job and we do work very hard.  We research and all that, but I think working as a group, I think that is a part of why it bristles with so much love and energy. 

Tiya :    And also I think what makes the experience so special, aside from the fact that we like getting to act the scenes out in a room together. It infuses the scenes and hopefully makes for a better show.  But aside from that, I think we really forge this family, this Motley Crew of people.  Like we have this Motley Crew of characters. 

Vanessa: Exactly. 

Tiya :  We've created this bond as a crew, the five of us and. The five of us really have kind of embodied the same familial dynamics as we have on this show.  And so as Vanessa was saying, you know, she kind of is this maternal figure making sure I am not hungry,  need a snack, am I cold, do I need to borrow her cardigan. I mean it's just the best. 

Q:  I love Sabine's character because she's very multidimensional.  She's out there shooting and fighting with them, but then she'll be gone over doing some technical stuff, like shutting down the field and all of that stuff.  But one thing I notice about her character, she's the only one that wears a cover over a face. Do you know if there's a significance to that?
Tiya: Well, she's Mandalorian, so that's like Mandalorian armor. The only difference is that I think she's probably the only Mandalorian that has armor that's been graffitied.

Vanessa:  Hot pink.

Tiya :  She designs her own.  She actually like sort of embellishes her armor, but yeah, the significance of the helmet is that she's a Mandalorian and that's full Mandalorian warrior armor. 

Q : Who are your favorite characters in the Star Wars universe?  Can you pick one?
Vanessa:   Well, you know we both love Princess Leia, because she's a strong female character, but I also don't wanna forget Ahsoka from the Clone Wars  because Ashley Eckstein is so wonderful and she's really a wonderful character that we watched grow from being a young padawan towards becoming a Jedi.  But I think it's the same principles. Women who are strong on so many levels that they're really inspiring.  So, I would say, overall, probably Princess Leia.  

Tiya : And I have a soft spot for Han Solo, but who doesn't?  I mean — But as inspiration, Leia.  For my own viewing pleasure, Han Solo. 
Meet Sabine
STAR WARS REBELS: SPARK OF REBELLION series premiere on Disney XD is TONIGHT October 13.  You can visit StarWars.com for more news on the series and be sure to follow @DisneyChannelPR  and @StarWars on Twitter to stay up to speed with the latest news.  I have a bunch of free printable coloring pages and activity sheets for the the kids, too. You can pre-order the movie on Amazon now!
May the force be with you!
*Photo credits to Disney.