Star Wars Rebels is the latest piece of the Star Wars saga and the half-hour long shows begin airing with the series premiere on Disney XD on October 13.  You can learn more by reading my interview with voice cast member Freddie Prinze Jr. and Producer Dave Filoni.
Star Wars Rebels continues the epic tradition of the legendary Star Wars saga with all-new exciting, action-packed adventures. Set between the events of Star Wars Episodes III and IV, the story unfolds during a dark time when the evil Galactic Empire is tightening its grip of power on the galaxy. Imperial forces have occupied a remote planet and are ruining the lives of its people. The motley but clever crew of the starship Ghost — cowboy Jedi Kanan, ace pilot Hera, street-smart teenager Ezra, the "muscle" Zeb, warrior firebrand Sabine, and cantankerous old astromech droid Chopper — is among a select few who are brave enough to stand against the Empire. Together, they will face threatening new villains, encounter colorful adversaries, embark on thrilling adventures and become heroes with the power to ignite a rebellion.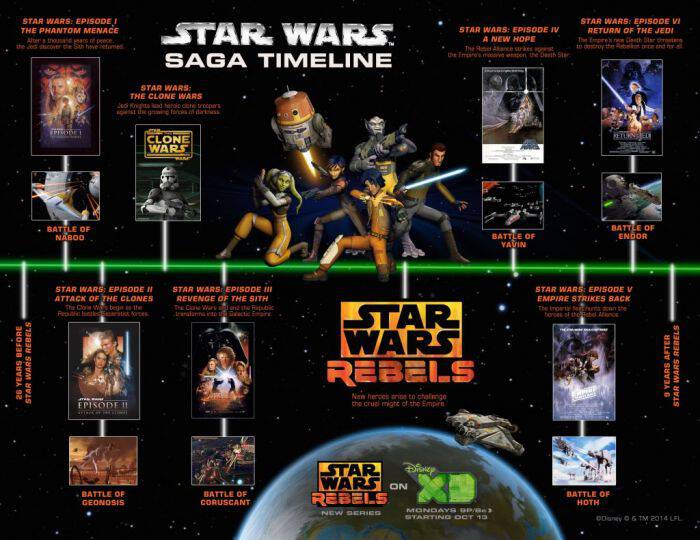 If you check out the image above you can see when Star Wars Rebels takes place, between the prequels trilogy and the classics trilogy, right between Episodes III and IV.  This new series is going to be a HUGE hit with both seasoned Star Wars fans and a whole new generation of Jedis. I have some fun free Star Wars Rebels coloring pages and activity sheets below.
Click on each title to print the full size copy of each page:

STAR WARS REBELS: SPARK OF REBELLION will air on October 3 on the Disney Channel and the series premiere on Disney XD begins on October 13.  You can visit StarWars.com for more news on the series and be sure to follow @DisneyChannelPR  and @StarWars on Twitter to stay up to speed with the latest news.  You can pre-order the movie on Amazon now, too!
May the force be with you!