Disney has provided me with an expense paid trip to Los Angeles for the #VeryBadDayEvent and #DisneyInHomeEvent in exchange for my review of the events of the trip. No other compensation is given. The opinions and experiences in my posts are 100% mine. You can read my full disclosure policy here.
Where are my fellow Star Wars fans?  My house is like Star Wars central. I swear my kids could run a master's class in character facts.  So when I got the chance to screen STAR WARS REBELS: SPARK OF REBELLION on my trip to Los Angeles last week I was SO excited! This is right up my alley.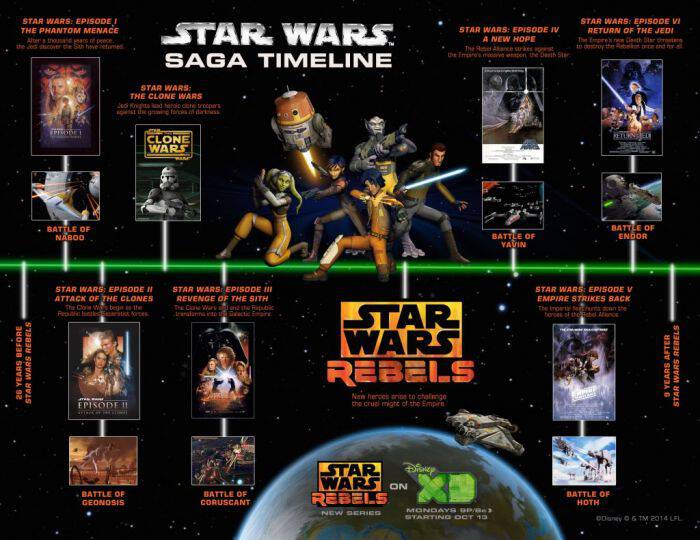 If you haven't heard of the new show, let me give you the scoop. Star Wars Rebels is the latest piece of the Star Wars saga.  On Friday October 3 the movie will air on the Disney Channel and then the half-hour long shows begin airing with the series premiere on Disney XD on October 13.  If you check out the image above you can see when Star Wars Rebels takes place, between the prequels trilogy and the classics trilogy, right between Episodes III and IV.
Star Wars Rebels continues the epic tradition of the legendary Star Wars saga with all-new exciting, action-packed adventures. Set between the events of Star Wars Episodes III and IV, the story unfolds during a dark time when the evil Galactic Empire is tightening its grip of power on the galaxy. Imperial forces have occupied a remote planet and are ruining the lives of its people. The motley but clever crew of the starship Ghost — cowboy Jedi Kanan, ace pilot Hera, street-smart teenager Ezra, the "muscle" Zeb, warrior firebrand Sabine, and cantankerous old astromech droid Chopper — is among a select few who are brave enough to stand against the Empire. Together, they will face threatening new villains, encounter colorful adversaries, embark on thrilling adventures and become heroes with the power to ignite a rebellion.
If it sounds awesome, it's because it is.  I had the opportunity to interview a bunch of the talent that's involved in this project including Freddie Prinze Jr. (on the left above) who is the voice of Jedi Kanan Jarrus and sort of the leader of the rebels.  Dave Filoni (right, above) is the Producer and he also produced directed Star Wars: The Clone Wars.  It was so fun to talk to these two about Star Wars Rebels. If you want to meet a couple of Star Wars know-it-alls, there they are in all their awesomeness.

When asked how he got involved in the project Freddie told us that he didn't initially know he was auditioning for a Star Wars show.  They code named it 'Wolf Pack' to keep the true identity under wraps but he caught up pretty quickly and sort of freaked out when he realized what he was possibly going to be a part of. It's clear Freddie has been a huge Star Wars fan for many years so it's really cool that he ultimately ended up being a part of the saga.
Dave had this to say about where the idea for Star Wars Rebels came from:
"We wanted to come up with something new that represented this kind of new era of Star Wars and working with Lucas Films Story team, we all quickly came up with the idea of Star Wars Rebels. The Story Team introduced the idea to make an A-Team like scenario and it just makes sense.

You know, it was something that was very special to us as kids growing up, when we could see that logo at the beginning of a story, we would go this is going to be different, you know, this is going to give you the special feeling.  I can't really put it into words.  It was hopeful, it was exciting.  You saw things you'd never seen before on screen and so we're all about trying to continue that legacy now." – Dave Filoni

Both Freddie and Dave commented on the strong female characters in the show.  Leia was a strong female in the Star Wars trilogy and in Clone Wars we saw Ahsoka Tona rockin' her role as Anakin's padawan. And the dark side had their share of strong women, too. Aurra Sing is not someone I'd want to run into in a dark alley.  In Star Wars Rebels, the ship's pilot is Hera (voiced by Vanessa Marshall – interview with her coming soon!) and there's a younger female character, Sabine (played by Tiya Sircar) that is super brave and smart.  Both Freddie and Dave agreed that strong female leads are necessary.
" I have two nieces.  I want them to have heroes to look up to like I did.  So I just think it's a great time for it.  And I think the audience is very ready for it but I think they've been ready for a long time.  There's a fascination in the press that seems to think that it's a recent thing that girls like Star Wars.  My designer at ABC, she liked Star Wars as a little girl.  It's just been ignored." – Dave Filoni
Right on, Dave. My 9 year-old daughter is probably your biggest fan.
Meet Kanan

Freddie gave us some insight into his character who is really a different kind of Jedi than what we're used to.
"He's not the normal Jedi.  He's not together.  He doesn't have it all figured out.  He has maybe 3 answers.  Forget ALL the answers and then two of them, he's guessing on.  You'll literally see him sort of BS Ezra on some of these force things that someone like Master Yoda would be like, there is no try, there's only do.  Where Kanan will be like, give me your best shot.  You're not supposed to do that. He makes mistakes cause he was young and he didn't get to complete his training in the way that an Anakin or the way that Luke could.

He's not the Master that Ezra, that a kid sees.  Growing up without a Father like Ezra, you put certain men in your life on a pedestal.  And they become something to you.  They become something special and spiritual and powerful. " – Freddie Prinze Jr. 
I  mentioned earlier that Freddie is a huge Star Wars fan and has been for many years. I think that love of the saga makes the role not only really special for him, but awesome for us to watch. He left us with this story:
"I slipped down the slide when I was 4 years old with a broken flagpole because I was Luke and my cousin was Darth Vader.  The pole hit the ground first and it stuck in my chin and my Mom ran out and my chin blew out.  And she flipped and threw me in the car and took me to the hospital and they stitched this little scar I have back here.  And so you know, all those images start racing back through your head and you're reading dialogue,  telling a kid, come with me.  Come learn the ways of the Force. From 4 years-old to 38 years-old. It's easy to know that I really care about this." – Freddie Prinze Jr. 
STAR WARS REBELS: SPARK OF REBELLION will air on October 3 on the Disney Channel and the series premiere on Disney XD begins on October 13.  You can visit StarWars.com for more news on the series and be sure to follow @DisneyChannelPR  and @StarWars on Twitter to stay up to speed with the latest news.  You can pre-order the movie on Amazon now, too!
May the force be with you!
#StarWarsRebels airs on Disney Channel TONIGHT! http://t.co/gy642ucHHD My interview w/ Freddie Prinze Jr. & Dave Filoni. #DisneyInHomeEvent

— Lindsay (@SeeMomClick) October 3, 2014