This post is in partnership with The Hungry Tarpon and The Florida Keys and Key West who hosted our visit. All opinions are my own. You can read my full Disclosure Policy here.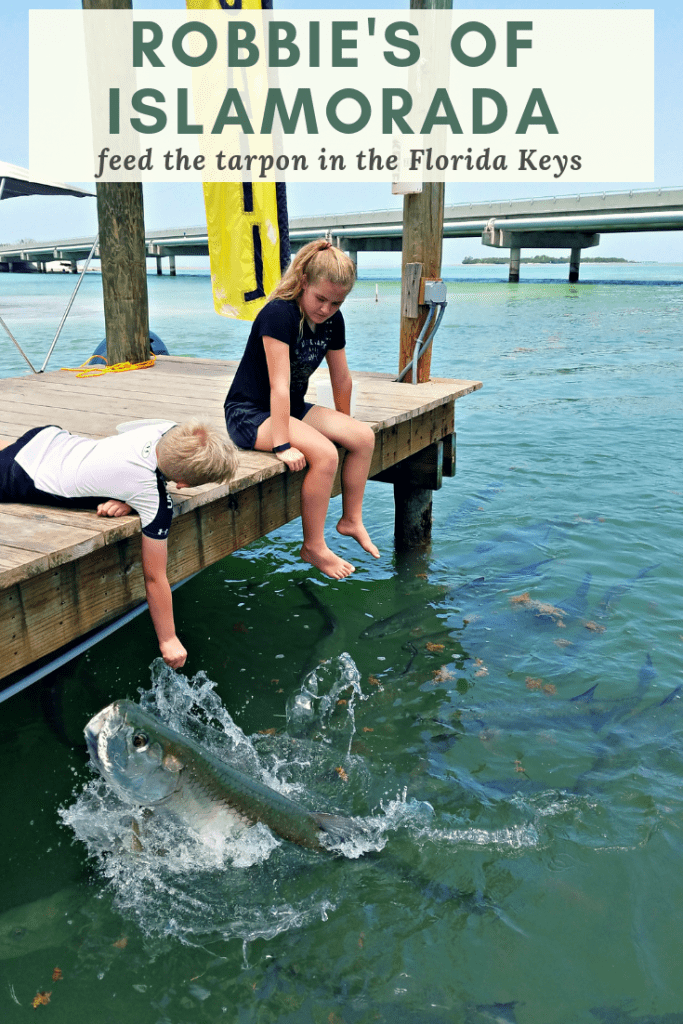 When we were planning our Florida Keys vacation this past summer, so many people told us, "You have to go to Robbie's in Islamorada!" I wasn't entirely sure what this was, but we made a point to stop here and now I'm the one telling everyone they HAVE to go to Robbie's.

I've got the scoop on what there is to do at Robbie's, and why you definitely need to get there on your Keys vacation.
Robbie's Open Air Market
After you park, you'll walk through the market to get to the restaurant, marina, and tarpon feeding areas. We hit the shopping on the way out so we didn't have to carry the things we bought until we were leaving. Our agenda: Eat first, then feed the tarpon, then shop.
Robbie's open air market is the perfect place to grab your Florida Keys souvenirs. They have something for everyone (and every budget), from really beautiful artwork to little keepsakes like magnets and key chains.
There's plenty of seating so if you just want to chill out and listen to music, you can do that too. I'd plan to shop, though! We each got a few little things and if I thought I could have gotten some of the artwork home on the plane, I've have bought it. Gorgeous paintings!

There's a lot of fun stuff like this too. I didn't buy it, but I took lots of pics and texted them to my friends for a laugh!
The Hungry Tarpon Restaurant
The restaurant in Robbie's marina is called the Hungry Tarpon, and there's a bar, too: The Thirsty Tarpon. We had lunch here and it was SO good.

The atmosphere, like most places in the Keys, is very laid back but the food is killer. This is one thing we loved about the Keys: You can get really fantastic, high-end food without having to dress up. Everything is super casual and comfortable.

The Hungry Tarpon is pretty much entirely outside, and while they have some tarps to block the beating sun, it's HOT (especially in August), so be prepared for that. I think most tables were pretty shaded with the tarps.
The upside is that the views of the marina are just gorgeous. If you're looking for an open air, tropical dining experience, this is the place to be.

The bar is covered in dollar bills! I asked our server what this was all about and she said that visitors will write their name on a dollar and leave it, and then try to find it when they come back.
Best Restaurants in Islamorada

My husband and I went for the drink menu first. He got the Islamorada Citrus Ale and I had the Island Girl cocktail. Both were so good and refreshing. They've got a great drink menu, and if you're unsure of what to order, ask your server. Mine suggested the Island Girl to me and it was tropical perfection!

I could have made a meal of these Thai Fish Fingers. Panko crusted with a sweet chili sauce, they were awesome. The whole table shared them as an appetizer. I highly recommend these when you visit. SO good!

I think my kids lived on fish and shrimp tacos on this trip. They ordered them everywhere we went, including The Hungry Tarpon. Not a bite left from either of them!

Tuna Sashimi Salad was actually listed as an appetizer, but I found that was a good way to eat in the Keys. I can't eat anything really heavy when I'm super hot, and ordering a few smaller dishes to share allowed us to try different things without wasting food.
So I ordered this as my entree and it was fresh, flavorful, and totally delicious. It was a great portion size, too. Just right when you want to save room for key lime pie!

Notice the four forks before you judge. There's always room for at least a couple of bites of key lime pie when you're in the Keys. This one was delicious!
Feed the Tarpon FL Keys
After we ate, we went over to the dock to check out the action. There are really big silver fish called tarpon (this was the first time we'd seen them – they're huge!) that will jump right up out of the water to take bait from your hand. Definitely a must-do, and the kids love this!

Be sure to take a look at the hilarious Wall of Shame to see what everyone has lost leaning over the dock to feed the fish. Then secure your cell phone, hat, sunglasses, cameras, etc., so that they don't end up in the same place.
The fee for access to the doc is $2.25 per person, per day.

For a few bucks (it was $4 at the time of our visit), you can grab a bucket of fish to feed the tarpon. This is part of the fun so definitely do it!
There are around 6-7 fish in each bucket, and the kids (ahem, and adults) are going to drop a couple or just get gun shy and throw them into the water when they think a tarpon is jumping, so if you can swing it, get each child their own bucket so that they have a better chance of actually feeding a fish to a tarpon.

The pelicans are on the lookout for dropped fish (or fish to steal!) and there are signs advising you to not feed them. Still had to take this guy's picture to share. He did such a good job keeping an eye on everyone and their fish!
They are not aggressive, so just leave them alone and they won't bother you or the kids. My crazy children wanted to pet them. Ah, travel with animal lovers.

Look how big those Tarpon are! We found it easiest to just lay down on the deck on our stomachs and lean way over with our fish. I think this is safer with little kids so they don't lean right into the water. It requires a little patience to wait for one to jump up and grab it!
Feed the Tarpon Robbie's

Feeding the tarpon offers some very cool photo opps, so be sure you have your camera but don't drop it in the water. The deck is curved at a 90 degree angle, so if you have the kids go to one side, you can sit on the other and get some good photos.

This guy was getting ready to go in for the prize.

Action shot! My son was pretty patient about waiting for the tarpon to jump.
I did try it too, in case you are wondering. And I was the one who kind of freaked when the tarpon jumped and just dropped the fish right in the water. I did that twice and decided I was going to let the kids finish the buckets of fish so I didn't waste anymore. I'm good at other things.
Where to Feed Tarpon Florida Keys

You can see how big these fish are. Tarpon can be about 4-8 feet long and when you're so close to them, they do look huge and it's a pretty incredible experience to feed them.

This is a crazy shot of my husband feeding one of the tarpon. He really got some air on that jump to grab the bait!

And this is the photo I love most, lovingly referred to as 'tarpon hand' in my family. Gotcha! They do actually have little teeth (or something) that scrape you up if you put your hand into their mouths – clearly not recommended. So maybe don't do this on your visit. It was worth it for that shot, though!
Learn More About Robbie's
Lunch and feeding the tarpon at Robbie's was one of the most memorable parts of our Florida Keys vacation. Do not miss this on your trip! If you want to make a day of it, you can plan a fishing or boat ride excursion, jet skiing, and snorkeling, too.
Visit the Robbie's of Islamorada website for more info about all the fun waiting for you there, and be sure to check out their cool pics and current happenings on social media: Facebook | Twitter | Instagram
The Florida Keys and Key West are the perfect place for a family vacation. Visit their website, and check out their social profiles for tons of ideas to help plan your adventure: Facebook | Twitter | Instagram
HOW TO PLAN A FLORIDA KEYS FAMILY VACATION:
WHERE TO STAY IN THE FLORIDA KEYS
BEST PLACES TO EAT IN THE FLORIDA KEYS
THINGS TO WITH KIDS IN THE FLORIDA KEYS