This post is in partnership with Universal Pictures.  All thoughts and opinions are my own. My experience may differ from your own. You can read my full disclosure policy here.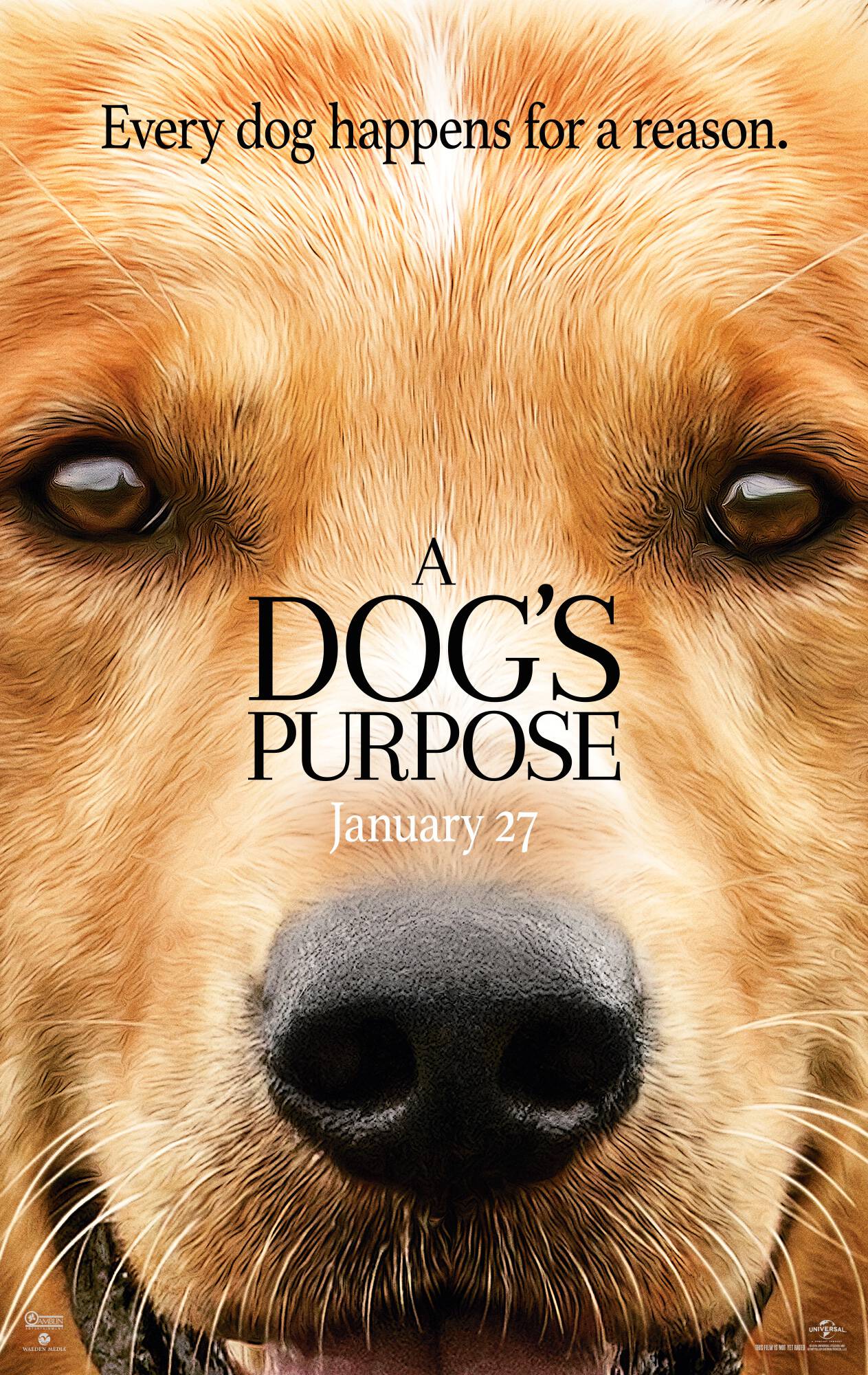 I am such an animal lover, and dogs are my #1. I've always been a dog person and I am SO excited for this new movie coming out ON MY BIRTHDAY! A Dog's Purpose hits theaters January 27 and I feel like it is my birthday gift already. How perfect! This movie is based on the book (love books to film!) and it is going to be so amazing. Take a look below at the synopsis and the trailer.
Based on the beloved bestselling novel by W. Bruce Cameron, A Dog's Purpose, from director Lasse Hallström (The Cider House Rules, Dear John, The 100-Foot Journey), shares the soulful and surprising story of one devoted dog (voiced by Josh Gad) who finds the meaning of his own existence through the lives of the humans he teaches to laugh and love.  The family film told from the dog's perspective also stars Dennis Quaid, Peggy Lipton, Britt Robertson, K.J. Apa, Juilet Rylance, Luke Kirby, John Ortiz and Pooch Hall.
I won't lie. This trailer has me sobbing every time I watch it. I had to get up and go smother my dog Sam for a while afterward. What would we do without our dogs?
Rescuing My Dog Sam
Speaking of Sam, let me tell you about his purpose! Growing up my family always had dogs, but when I met my husband, he came from a cat family. Now I love all animals, so this was all good with me, but as luck would have it, two stray cats found us and claimed us as their own just as we were starting our married life together and there I was, a cat lady. I love my cats dearly, but life is not the same without a dog.
One day my neighbor across the street came home from the city with a little dog on her lap. It was May and it was warm, so I was outside with the kids and we ran right over to see what she had. She had found this sweet little dog running around in the streets and scooped him up  before he could get hit. After asking around if anyone knew the dog, she brought him home. She has a big dog that wasn't too keen on this little guy, and was going to take him to the Humane League. Before she did, I asked if I could take him into my house and just see how he did with the cats. This was after I had texted my husband a sappy picture with a 'this is my new love' caption.
Sam, as he was later named, was great with our cats! Never once has he snarled at them, chased them, nothing aggressive. And they didn't mind him either. I took him to the vet to make sure he wasn't chipped (he wasn't) and made sure no one had reported him missing (they hadn't) and then we claimed him as our very first family dog! My heart was so happy to have a dog again, and to be able to provide him with a home after he was tossed out on the street.
Sam had no manners when we first got him. He'd lift his leg and pee on the couch, was afraid of the grass, pooped in the basement, and had no clue how to walk on a leash. Luckily he was very trainable and now he's basically perfect. And he is spoiled rotten! We take him to the beach every summer where he likes to pretend to guard the shore. Look at dat happy face!

And he can RUN like the wind! Running on the beach is one of his favorite things to do. We sneak him food under the table, he has like six beds in this house, sleeps right next to me on a king size bed. The dog lives it up. He deserves every bit of good and love we can throw his way.

So what is Sam's purpose? I think he was sent to us to teach us a few things. We have learned to be flexible. We never expected to have a dog until our time with our cats was over, and had we said no to bringing him in, we'd have missed out on so much. Be open to the gifts that life sends you.
He was sent to bring us comfort. When anyone is sad, they reach for Sam. He is love, an endless supply of unconditional love. And when I have to talk to the kids about something important, like trouble with friends, or issues with their behavior, having Sam there keeps the conversation more open, honest, and productive. He's like a therapist with fur.
Sam has also taught us to have fun. Run on the beach. Play lots of games. Snuggle up and read together. Get down on the floor and play with each other. Jump for your food. Okay maybe not that last one, but you get the idea! We talk to Sam in silly voices, he has a million nicknames, we have a whole backstory about how he was once a baker. He inspires us to be more fun and that's good for all of our souls.
My Dog's Purpose Poster Generator

I love this! You can recreate the #ADogsPurpose movie poster using your dog! I do think Sam looks lovely as a movie star! Share using the hashtag #MyDogsPurpose and your fur baby could even be featured in the film's campaign. How cool would that be? Go here to create your own.
Dog lovers can also upload their furry friend's picture to the film's mosaic and connect with pups looking for a forever home via Best Friends Animal Society! I added Sam!
Learn More

You can see more of A Dog's Purpose on the official website and by following along on Facebook, Twitter, and Instagram.
A Dog's Purpose hits theaters January 27! We can't wait!