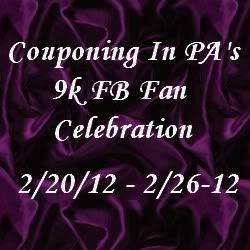 Yay!  My friend Lucy from Couponing in PA has reached 9k Facebook fans! In celebration I have teamed up with her and several other blogs to bring you this fun giveaway!  The winner will have his or her choice of $50 cash via Paypal OR a $50 Amazon gift code!  This will run Monday February 20 to Sunday February 26, 2012. Please see the terms & conditions page for more details. The only change to these details is that it is open worldwide (if not in US or UK then the prize by default will be Paypal cash).
Entry is easy!  Just use the Rafflecopter widget below.  Check out the following links to take care of your Facebook and Twitter entries before you enter on the widget. One more thing:
Good luck!
List of Facebook pages to like for that entry method please click here.
List of pages to follow on Twitter for that entry method please click here.
*If you are having problems entering your info into the entry form then try refreshing your screen. Firefox and Google Chrome seem to work better than Internet Explorer.*