This post is in partnership with Paramount Pictures. All opinions are my own. You can read my full Disclosure Policy here.
Where would we be without our girlfriends? I am so thankful for my 'squad' (my daughter just loves when I steal this word from her generation) and know I can always count on them for anything from bringing the kids home from soccer, celebrating my successes with me, and being a shoulder when the going gets tough.
Girls' nights are IMPORTANT, ladies! And I had the best girls' night with my BFFs watching Book Club together! Book Club is now available to own on Blu-Ray and the movie is fantastic – absolutely perfect for a night in with your tribe. I think the anticipation of an adult night was half the fun! Here's how we made it special, and why we love this movie!
Book Club is On Blu-Ray: Bring It Home This Weekend!
Book Club is a movie about women, for women, and it truly celebrates these friendships that carry us through the seasons of our lives.
Diane (Diane Keaton) is recently widowed after 40 years of marriage. Vivian (Jane Fonda) enjoys her men with no strings attached. Sharon (Candice Bergen) is still working through a decades-old divorce. Carol's (Mary Steenburgen) marriage is in a slump after 35 years.

Four lifelong friends have their lives turned upside down to hilarious ends when their book club tackles the infamous Fifty Shades of Grey. From discovering new romance to rekindling old flames, they inspire each other to make their next chapter the best chapter.
I invited my 3 best friends over to watch Book Club on Blu-Ray with me, and all four of us have read the Fifty Shades of Grey trilogy. Being familiar with the story line makes Book Club a little more fun, but it's not required reading before watching. I'm pretty sure everyone knows the basic gist of the tale, right?!
Book Club Trailer
You can see why this movie is ideal to watch with your girlfriends. So let's get our party started!
Plan Your Book Club Girls' Night In This Weekend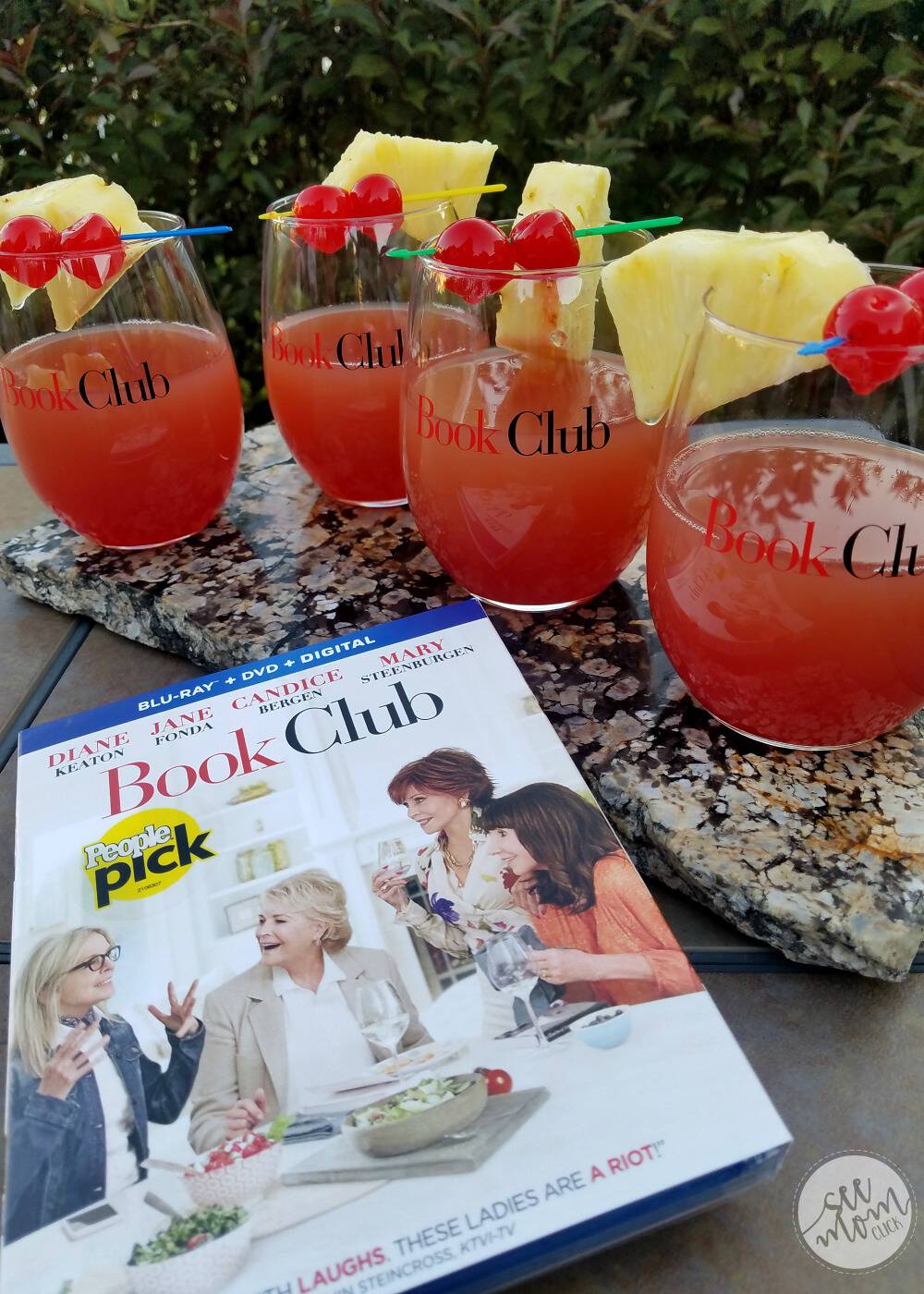 What do you need for a good girls' night in? Food, drinks, and a movie to make you laugh. I grabbed some finger foods at the store like a baguette, smoked salmon, cheese, and grapes. We had Book Club all ready to roll, and only needed some drinks to kick off our night.
Fruity cocktails are right up our alley so we mixed up these Tropical Sunset Cocktails (so easy – recipe below!) and they went down easy.

After enjoying our first drink outside, we went in to watch the film…and surprise, surprise, the kids had taken over the TV. Thankfully the Blu-Ray comes with a digital code, so we popped up the film on my laptop and sat on the patio to watch.

That lasted until the mosquitos came out to eat us, and we kicked the kids off the TV and enjoyed the rest of the film on the couch. More drinks, too, of course! (I know I'm not the only mom that has to fight their kids for TV time, am I?)
My daughter had all of my friends' daughters over for a sleepover that night, and it was so much fun for me to have all of my friends over, too. We laughed throughout the entire movie, and you definitely want to catch the hilarious bonus content on the Blu-Ray disc. Deleted scenes, the making of the film, and more.
There's so much humor included, but ultimately the message is that you are never too old to live your life. You don't need to have kids and then give up all of your dreams. You don't need to 'get old' and just wither away. There is still life left in us, and we should be proud to go live it! I love that the stellar cast of Book Club – Diane Keaton, Jane Fonda, Candice Bergen, Mary Steenburgen all in one place? You know it's going to be good – reminded me and my girlfriends how important we are to each other, and how friendships can push you through times in your life when you want to throw in the towel.
Tropical Sunset Cocktail Recipe

When you plan your Book Club movie night with your girlfriends, give our cocktails a try! They're SO easy to make!
Yield: 1 drink
Tropical Sunset Cocktail Recipe

This fruity drink is perfect for your girls' night and goes down easy!

Prep Time 5 minutes

Total Time 5 minutes
Ingredients
1 shot Malibu Rum (1.5 oz.)
1 shot Peach Schnapps (1.5 oz.)
2 oz. pineapple juice
2 oz. cranberry juice
Splash of grenadine
Fruit for garnish (optional)
Instructions
Combine all ingredients except grenadine together and stir. Finish with a splash of grenadine. Add fruit of your choice (we used fresh pineapple and maraschino cherries) as a garnish if desired. Cheers!


It probably would have been smart to serve them over ice but we drank them so fast, they didn't have time to get warm. ha!

Bring Book Club Home

Book Club on Blu-Ray is available to own now. Grab your copy, call up your girlfriends, and celebrate your friendships with a girls' night in movie night!
Cheers to the women we love and keeping each other young at heart, ladies!