This is a Sponsored post written by me on behalf of Nutrisystem . All opinions are 100% mine.
So who else set a New Year's resolution to get their butt in shape?  Let's be honest. It's so hard to do it alone. The motivation that comes from an organized support group and having the tools you need to succeed at your disposal are priceless and can make or break your goals.   You know what else helps? Results. And fast. Nothing movitates me to keep at it more than seeing the numbers on the scale drop. Nutrisystem® has an awesome new program that's just perfect for those of you that are ready to get healthy in 2014.
Here are the top 5 things you need to know about The Nutrisystem® My Way® and Fast 5 program.
1.  It's brand new and provides each individual with a specific planned based on their personal metabolism.  They use an algorithm to estimate your metabolism and then use that information to come up with a specific meal plan and excersize suggestions to maximize weight loss. So the Nutrisystem My Way is personalized weight loss.  I love it!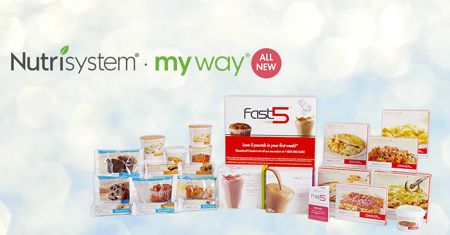 2. Even better, in my opinion, is the Nutrisystem Fast 5.  This is the first week of your My Way plan and it's designed to help you see results FAST.  Personally that's what I need to stick with it. No results, sadly I become a quitter.  They actually guarantee that if you follow the plan you'll lose 5 pounds in that first week.  Okay, those are my kind of results we're talking about here!
3. So the Fast 5 is a one-week jump start kit to begin your My Way program, and it is currently FREE when you purchase a My Way 28-day meal plan! Woot!
4.  In addition to  the 7 breakfasts, lunches, and dinners that come with the Fast 5 kit, they'll include these yummy shakes. I see chocolate.  😀   Their EnergiZING shakes rev up your metabolish and their Craving Crushers are the perfect substitute for a candy bar out of the vending machine at about 2 o'clock in the afternoon.  Afternoon cravings are one of my major downfalls. But I'd totally drink a chocolate shake and be happy!
5.  The Nutrisystem My Way program is personalized just for you and with that bonus kick start of the Fast 5 you'll see results fast and be more motivated than ever to keep dropping the pounds. I also love all the online support and tools like trackers and cookbooks that the offer to their participants. And did you know they have a mobile app?  Yup, take that support with you wherever you go.
Make 2014 the best year EVAH!  Go check out Nutrisystem My Way and get started on those healthy goals!